How to repair your car's headlights
There is nothing worse than your car's headlights looking dull, yellow and cloudy.
While dirty and/or damaged headlights bring down the overall look of your car, they also make it hard to have good visibility when driving at night, which can create unsafe driving conditions. 
Thinking about selling your car? Then you're going to want to pay extra attention to this post because restoring your headlights before it's too late can help retain the resale value of your vehicle. The average replacement cost of a single headlight is around $850, so the more you can look after them the better!
To help keep your headlights in the best condition possible, we'll go over:
What causes car headlights to become dull, yellow and cloudy
Common DIY fixes
The best way to restore your car's headlights in Mudgee and Dubbo
Scroll down to learn more!
What causes car headlights to become dull, yellow and cloudy?
It doesn't matter how new your car is, all headlights are at risk of fading or becoming yellow and cloudy. A few common reasons include:
Dirt and Chemical Build Up
Driving along lots of dirt flicks up onto your headlights, over time this causes dirt, tar and other environmental grime to begin building up. The downside to these builds up is your headlights will become white and cloudy resulting in low visibility for you as the driver but also a glare for passing vehicles.
Oxidation
Due to the harsh Australian sun, UV extremities break down the protective layer of your headlights over time, which results in the headlights' plastic shell being no longer protected from the strong rays from the sun.
Road Damage
Your headlights are at the lower front of your vehicle meaning they cop the brunt of things hitting your car when driving such as gravel, dust, and fine rocks. This is another cause of the headlight topcoat breaking down and can result in fine cracks and scratches, which is what causes the cloudy and foggy appearance.
Common DIY fixes for dirty, faded or dull headlights
Now that we've covered what causes these frustrating headlight issues, let's have a look at some DIY solutions people have tried. (We don't recommend these!)
Windex and a Brillo pad
Toothpaste
Baking Soda
Dishwashing liquid
White vinegar
While we're sure some people have luck with the above, at Leven Smash Repairs, we approach your car's headlights a bit differently!
The best way to restore your car's headlights in Mudgee and Dubbo
At Leven Smash Repairs, we use a game-changing restoration process that will bring your dull, cloudy and faded headlights back to life.
First, the headlights go through a multi-sanding process where we start with a low-grade sandpaper and work our way down to a very high grade.
Next, we mask and prep the headlight before putting a specialised clear coat on the plastic that provides UV protection suitable to Australian climates.
Finally: we bake it to lock in the results!
It doesn't matter if you want to book in for the service on its own, or add it onto your existing repair job, you'll be blown away by the wow-factor it adds to your car [as well as how it improves driving safety].
They'll look as good as a new car smells!
Scroll down to see before, during after photos of vehicle headlights restored by Leven Smash Repairs in Mudgee!
BEFORE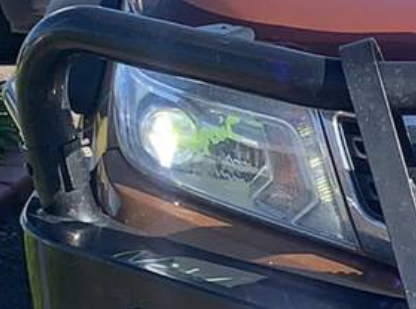 DURING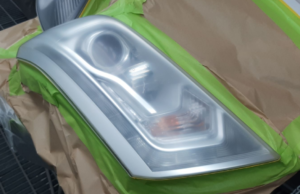 AFTER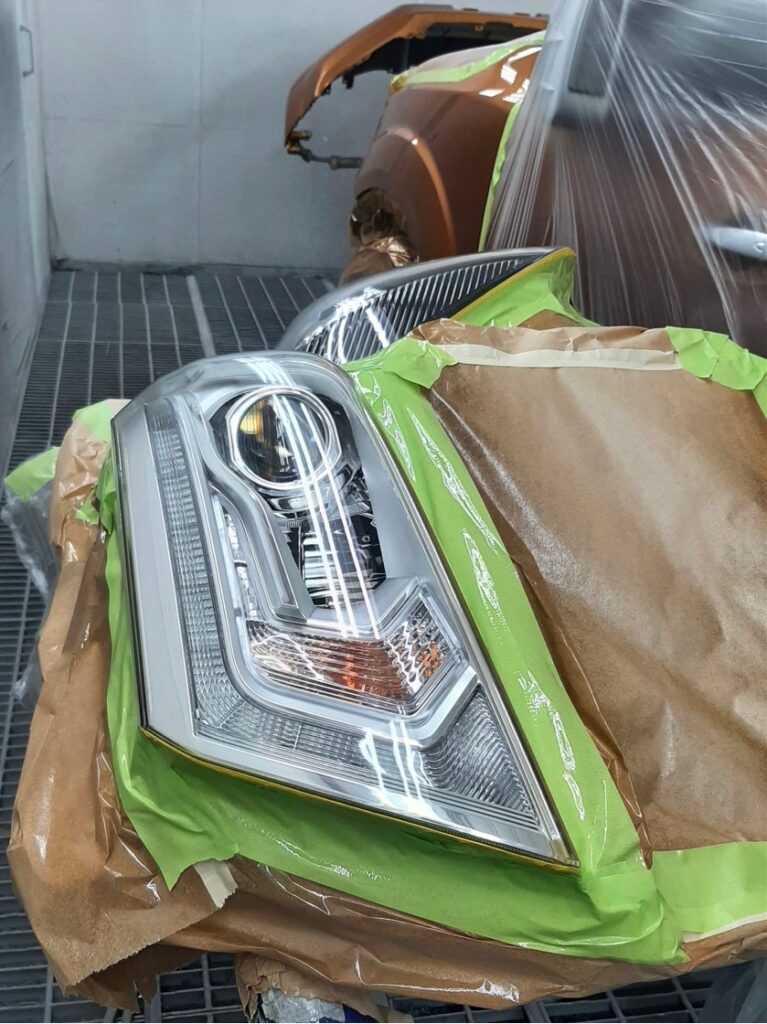 Ready to get your headlights looking all sorts of sparkly and new? Get in touch today!
Mudgee: 02 6372 3498
Dubbo: 02 6882 7570